An Online store or E-commerce is the activity of electronically buying or selling products on online services or over the Internet. Web-based business applications include e-commerce systems (also known as shopping carts) for managing sales.
I always advocate for setting up your own online store, even if you sell in online marketplaces, on classified ads sites or on social media channels, having your own site for presentation and calling is a wise choice. Presentation on the Internet is key, people are more likely to freely purchase from you knowing you have a professional business site set up online.
I am not talking about the free sites. The owner of the free sites use can post advertisements on your site, that you may or may not agree with. Another downside is the cost to upgrade from the limited free plan to a paid plan is normally much higher then if you had self-hosted your own store.

Besides some of the free open-source e-commerce software is designed to be easy to set up and use. I remember when I first set up my first online store using a free open-source application. It was quite easy and at that time, I did not have any technical knowledge. The only requirement I needed was to know how to read, write and follow instructions.
Free E-commerce Applications Used to Set Up an Online Store
WooCommerce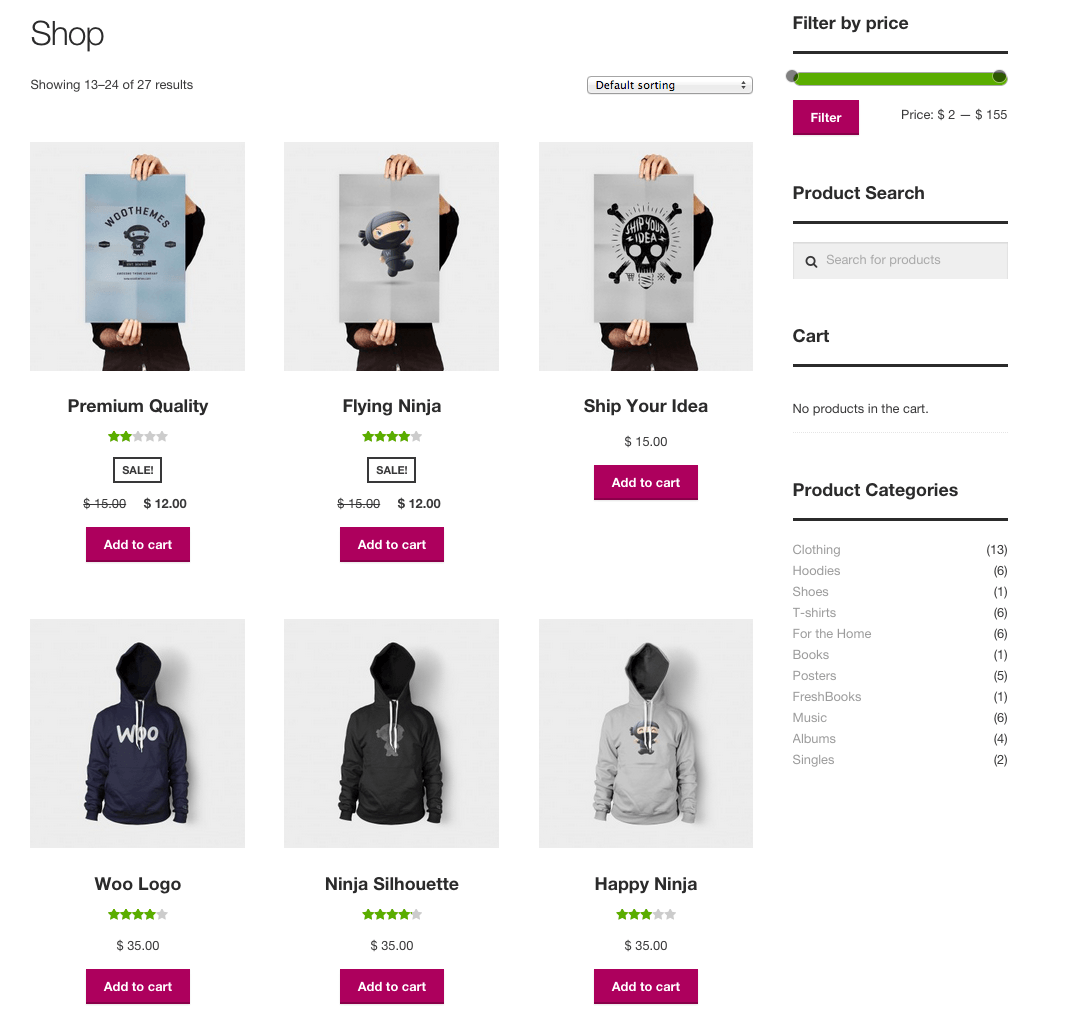 WooCommerce is an open-source e-commerce plugin for WordPress. It is designed for small to large-sized online merchants using WordPress. Launched on September 27, 2011, the plugin quickly became popular for its simplicity to install and customize and free base product. The only requirement is that you are familiar with how to use WordPress.
Magento
Magento offers a free open-source e-commerce shopping cart application. Initially released in 2008, Magento has grown rapidly to serve more than 110,000 merchants worldwide. Magento provides the scalability, flexibility, and features for business growth. Merchants using Magento have complete flexibility and control over the presentation, content, and functionality of their online channel. For larger businesses, they offer a paid version that you can use to upgrade from your free version. But for the most part, Magento for small business is free and opensource.
AbanteCart
AbanteCart is an open-source e-commerce shopping cart application. AbanteCart is a free eCommerce application that is designed, built, and supported by experienced enthusiasts that are passionate about their work and contribution to the project. This is not a commercial project and there were no rush decisions or shortcuts in this project. We like what we do, and we strongly believe that AbanteCart one of the best and state of the art eCommerce platform available. AbanteCart operated based on donations, contributions, and advertisers' financial support.
Features:
Expandable shopping cart application with a fast-growing number of extensions. Easy extension installation and management with the one-step installation. This allows adding virtually any feature or service to AbanteCart in the future, that this is very important in current dynamically changing technology environment.
Virtually FTP Free eCommerce solution. No need to know code, complex programs, or programming to manage, upgrade, and install modules. Manage your eCommerce application 100% in the slick web-based interface using any browser of your choice.
CubeCart
CubeCart is a free e-commerce shopping cart application. A commercial version is also available from the website. CubeCart was previously known as eStore. CubeCart is an e-commerce application that enables you to create a powerful online store.
Features:
McAfee Secure™ Audited
Search Engine Optimization
Google Analytics for eCommerce
Mailing List Management
Product Reviews/Comments
Digital Download Support
Spam Control (reCAPTCHA)
OpenCart
OpenCart is an online store management system. It is PHP-based, using a MySQL database and HTML components. Support is provided for numerous languages and currencies. Offering everything you need to create, scale and run your business. Powerful Store Management, benefit from our built-in SEO, easy manage products, customers, orders, tax rules, coupon codes and more.
OpenCart is designed feature rich, easy to use, search engine friendly and with a visually appealing interface.
Features:
Powerful Store Management: Benefit from our built-in SEO. Easy manage products, customers, orders, taxes rules, coupon codes, and more.
Extensions and Themes: The biggest eCommerce selections of modules and themes to expand your store functionality.
Support You Can Trust: We've got you covered. OpenCart offers free community or dedicated commercial support.
osCommerce
osCommerce is an open-source e-commerce shopping cart application. Initially released in 2000, osCommerce is one of the most used e-commerce applications with over 12,000 live stores. osCommerce is an online shop e-commerce solution. Its feature-packed out-of-the-box installation allows store owners to setup, run, and maintain their online stores with minimum effort and with absolutely no costs or license fees involved.
3. ZenCart
Zen Carts has been around for many years, its easy to use interface enables anyone who can read, write and follow instructions to set up a store online in no time at all. It has never been easier to operate your very own Online Store and jump start your sales on the web then with Zen Cart.! Zen Cart can be installed directly to your existing website.
PrestaShop
PrestaShop is an open-source e-commerce shopping cart application. Initially released in 2007, PrestaShop is currently one of the most used e-commerce applications powering more than 100,000 stores.
The PrestaShop e-Commerce Solution was built to take advantage of essential Web 2.0 innovations such as dynamic AJAX-powered features and next-generation ergonomy. PrestaShop guides users through your product catalog intelligently and effortlessly, turning intrigued visitors into paying customers.
Features:
Customize your store: Choose your colors, your logo, and a design from among a selection of professional-looking themes.
Drive your business: Manage your products, orders, customer relationships, and track your statistics
Attract visitors: Share your content on the social networks and your blog and attract more visitors
Sell globally: Easily present your store in several different languages and currencies – your business has no borders!